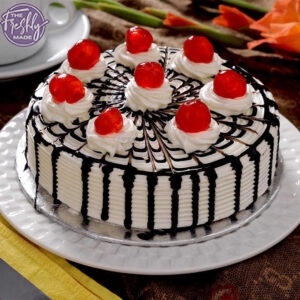 A great tasting cake with a classic Black Forest flavour is enjoyed with extra chocolate toppings is always the perfect choice for every occasion there is to celebrate.

This round shaped cake that is light and smooth is paired with tampered chocolate along with grated chocolate to provide the required richness to this classic Black Forest cake.

A freshly baked chocolate filling cake is decorated in a simple elegant way with icing to the Black Forest cake and chocolate cigars made with tempered chocolate.

As much as taste is important for a cake, so is its presentation. The classic Black forest cake is presented in a very artistic way to pleases both eyes and belly.

This circle shaped cake is beautified with chocolate is such a way that it looks like the forest floor after autumn. Relish in the appetising Black Forest cake.

Searching for a smiley or an emoji Black Forest cake? This cake is the perfect choice to send a tasty dessert as well as carving your emotion in the form of a cake.

If you are looking for a cake to represent you, look no further. This heart-shaped Black Forest cake tells it all behalf of you and the best part is it's a Cake!

Always trending and never disappointing. A hide and seek which never ends with the rich creaminess of this cake.

An exotic cake made by one of the finest chefs in your town. A melody of taste which is made from the finest produce to please your taste buds.

A super precisely carved heart shaped cake with chocolate essence is delicately moulded into the Black Forest cake that melts hearts just with the appearance.

The elegant moist cake is glazed with dripping chocolate glaze as a twist to the classic Black Forest cake and then a coat of fresh whipped cream is spread over to pop up the red cherries toppings.

The rich aerated fresh sponge Black Forest cake is frosted with fresh icing and the top of the cake is garnished with cherries and tempered chocolate.

A soft well-balanced Black Forest cake is accompanied with lots of chocolate bar shavings as a topping that is pleasing for the eye and fulfilling the need of an occasion.

Miss your family tons? Send them this lovely combo of 12 yellow roses paired with the goodness of half kg Blackforest cake. It screams "I miss you" loud enough to melt their hearts.

Don't go empty handed to a party for the lack of gift ideas! Bring these 15 hand-wrapped carnation flowers with a tasty half kilo black forest cake, a winning combination of sweet and thoughtful.

A well-baked cake is presented in freshly made whipped cream. To add additional chocolate flavour to the cake, chocolate shavings are used for garnishing.

This is a sinfully sweet combo to be gifted to the one with an enormous sweet tooth and a love of flowers. The bunch of 10 red carnations come with not just a half a kilo Blackforest cake but also a pack of 16 Ferrero Rochers. A chocolate lover's paradise

This cake is everyone's favorite. A delicate sponge cake topped with grated chocolate and whipped cream. Light, yet fulfilling. Celebrate your wonderful day with this most pleasing desert.